Happy Hump Day!!
…and rest assured, because its all down hill from here. In a good way!
YES, THE HUMP DAY HOP IS BACK!
It was discontinued for many months.
Welcome Back to a Mid Week Link up where you can link up everything you got! From GFC, to Google Plus, to BlogLovin, Twitter, Facebook, Networked Blogs and of course your Blog Frog Communities too or even StumbleUpon or LinkedIn, you name it.
*There are a few changes so please read below*:
Follow your hosts  Mommy Only Has Two Hands, Sweeping The USA, Life With The Little Man, Great Contradictions , Woman of Many Roles
Retweet/facebook, Friend Feed, Dig, stumble, whatever this hop. (The More You Share it, the more popular it becomes)
There are 3 linkies! On the first one, put in your blog URL and Button. On the second one put in any other network link you'd like follows on, then after your title put in FB, or Twitter or StumbleUpon etc. On The Third Linky, link up any giveaways you have. The giveaway linky list is cleaned every week, so outdated links will be deleted.
Follow who ever follows you! Please leave a thoughtful comment and PLEASE FOLLOW OUR SPOTLIGHT BLOG!
---
Spotlight Blog:
"My blog reflects my art including a photo for every post. My passions include fitness, art, stress relief and giving back to the community. If you find one of my photos to be your favorite, let me know and I'll send it to you. Thanks for giving me the spotlight!"
*If you would like me to follow you, leave a comment and your URL.*
And Most of All, have a Happy Hump Day!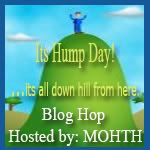 Add your giveaways here: