Entertaining kids has gotten complicated over the years.  Most kids have forgotten (or never learned) the fine art of imaginative play.  With computers, tvs, video games, and too many electronic devices to name, why would they want to do the extra work?  Here's why…outside activities and physical activities is a great way to help our kids take pleasure in the simple things.  Kids can learn to appreciate what nature has to offer, learn how strong their bodies can be,  and imaginative play can take them places electronics just can't.
The Great American Backyard Campout Event is a great reason to get outside and show our families what the outdoors has to offer.
Event Details
The Great American Backyard Campout 2010 was a great success! Thanks to all of our campers for participating.  Join us for the next Campout event on June 25, 2011 — in your backyard, parks, campgrounds or even your balcony! No site is too big or too small to spend a night sleeping under the stars. Changes since last year:  We're using a brand-new tool that allows you to form "Campout Teams" and raise money that goes right back to helping connect even more kids to the outdoors through National Wildlife Federation's programs, such as Wildlife Watch and Trees for the 21st Century.
When you register your campsite, you'll be able to choose whether you want to set a fund-raising goal. You'll get your own personal page to customize with stories about your own camping experiences or even a treasured photo. Plus you can watch how much money you raise and also send personalized email invites to your friends, family members, co-workers, and neighbors.
As you and your recruited campout buddies raise money, you'll become eligible for Great American Backyard Campout t-shirts and more!
National Wildlife Federation's is hosting Great American Backyard Campout June 25th for a night of old-fashioned fun outdoors.  Not free on June 25th? Register and camp out any night that works for you. You can register as a team or simply campout in your backyard.  It's family fun with a purpose: "helping American kids benefit from outdoor time"!
Find out more about Great American Backyard Campout by visiting them on their website, facebook, or twitter
What Now?
Backyard camping can be as elaborate as you want it to be.  We had our backyard campout early since the date falls on my birthday and we will be off visiting family.  We setup a tent in our backyard, created a "pond" with our kiddie pool complete with fishing, made a wood-fire in our grill, made our own solar oven to cook food, and encouraged the kids to just have fun enjoying nature.  We have never been camping as a family.  I am not certain the boys (age 1-6) are quite ready for actual camping, but this was a great way to prepare them for it.
If you want to make your own solar cooking oven. It all starts with a pizza box…
DIY Solar Oven:
Needed Supplies:
1 pizza box, white glue, aluminum foil, scissors, 1 sheet black construction paper, clear plastic wrap, masking tape, string
*I know CiCi's is not gluten free pizza, but our oldest who has no food restrictions has always loved CiCi's.  CiCi's was very nice to get us a new, uncontaminated box for this project!
Directions:
1. Glue aluminum foil to the inside of the bottom of the pizza box. Close the box.
2. On the top of the box, cut 3 sides (DO NOT cut the hinged side) of the box about 1 inch from the edge to create a flap.  Use ruler to measure if you like, but not necessary.
3. Open the box and glue foil to the inside of the flap.  Try to make the foil as wrinkle free as possible.
4. Glue black construction paper to the inside of the bottom of the box.
6. Stretch the plastic wrap over the opening created by the new flap. Tape all around the edges to seal it to the box. Make sure to cover any possible air leaks with tape.
7.  Tape piece of string to the top of the outside of flap, so you can get the perfect angle for sunlight with a simple adjustment.  You want the sun to bounce off of the foil into the pizza box, so you might have to occasionally readjust the flap. String can be held in position with a piece of tape or rock to keep the perfect angle.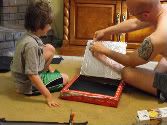 Now that you have created the Solar Oven is the fun part…Cooking!
Solar Ovens work best between 9 am and 3 pm.  I place it out a couple of hours before it is time to start cooking to allow it to heat up.  Once you start to think about it, there are a lot of easy recipes that can be solar cooked.  Feel free to contact me if you need any more tips or help getting started.  I will be focusing on kid-friendly recipes to get you started…
Solar-Cooked Pizza
1 cooked pizza crust
pizza sauce
shredded mozzarella cheese
pizza toppings (your choice)
Directions:
1. Make pizza as you normally would.  Ours we spread on sauce, top with cheese, and then pepperoni.
2. Place the pizza in the solar oven.  Readjust flap if needed.  Cook pizza for 30-45 minutes until cheese is melted.  Time is based on temperature.  To give you an idea: our last pizza cooked at 11 am (80 degrees) and it took between 45 min. to 1 hour.
Solar-Cooked Nachos
Tortilla Chips
shredded cheese
Salsa of your choice (ours: Salsa Sensations)
Directions:
1. Place chips in solar oven. Then, top with cheese and salsa.
2.  Allow to cook for about 30 minutes until cheese is melted.
Please note: I am not being compensated for this post.  This is to promote Great American Backyard Campout