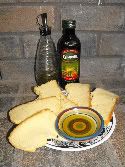 While I am working on getting my body ready for our anniversary in Mexico, I have been doing research on ways to take our healthy lifestyle to the next level beyond working out with RevAbs.  Monounsaturated fats are heart-healthy fats that have been found to lead to lowered body weight.  Olive oil is a great source of monounsaturated fats.
About Carapelli
In 1893, in the quaint town of Montevarchi, Italy, a man named Constantino Carapelli began selling olive oil, founding a family business that has become an Italian tradition. Constantino's dream was to move his olive oil and grain business to the beautiful city of Florence. Forty-seven years later, his dream became a reality, when his sons constructed warehouses in the Florentine suburb of Rifredi and supplied olive oil from the family oil mill at Ponte a Ema.The newly built warehouses were destroyed during World War II, but the Carapelli family forged ahead. They rebuilt the structures and started anew. The hard work paid off, and by the 1950s, Carapelli was a household name in Italy, gracing tables across the country.Since the founding of Constantino's family-based company, generations of experienced artisans have passionately preserved this distinctive tradition of taste. Today, at its state-of-the-art facilities, the people of Carapelli have made an art of combining Old World craftsmanship with New World standards. As a leader in olive oil, in the 1970s, Carapelli was the first olive oil producer to promote bottled extra virgin olive oil in Italy. Today, Carapelli is Italy's market leader in extra virgin olive oil production.  Since 1893, Carapelli Olive Oils have been passionately crafted with exclusive blends of the best oils from the finest Mediterranean olive groves.  Our rich heritage and mastery of creating high quality Extra Virgin Olive Oils ensures each of the Carapelli varieties is drenched in olive oil passion and has distinctive flavor to decidedly enhance all your recipes.  Carapelli Olive Oils are naturally cholesterol free.
To learn more about Carapelli visit their website here
Carapelli 100% Italian Extra Virgin Olive Oil
Made solely with 100% Italian olive oils, Carapelli 100% Italian Extra Virgin Olive Oil has a deep velvety green color and intense, robust flavor and aroma, for an unmistakably Italian experience every time you cook.  Perfect for dipping, salads and flavoring entrees or side dishes.  Excellent for marinades.
Reaction
Carapelli Extra Virgin Olive Oil is a simple, healthy way to add more monounsaturated fats to your diet.  The taste is perfectly light and not overwhelming.  Some olive oils can have a taste that needs hidden in other foods, but not Carapelli Extra Virgin Olive Oils.  To show that I am providing a simple recipe to showcase the flavors of the olive oil and fresh-grown herbs.  Dipping bread in herb-infused olive oil is a great alternative to garlic bread usually overloaded with butter.  Feel free to modify the herbs, garlic, etc… to your taste.
Herb-infused Olive Oil
Ingredients
4-6 cloves of garlic, sliced
2 Sprigs of herbs (your choice: I prefer basil)
2 c. Carapelli Extra Virgin Olive Oil
(optional: 1/2 tsp. peppercorns)
Directions:
1. Combine garlic, herbs, & 1/2 c. olive oil in a skillet.
2. Saute over medium heat until garlic is lightly browned.
3. Remove from heat & let cool.
4.  Once cool, strain out garlic & herbs using a fine strainer or cheesecloth.  If you want more pronounced flavor, leave the garlic & herbs in for longer until desired taste develops.
5.  Add remaining oil & peppercorns.  Place in the refrigerator!